A classic fairy tale gets a modern twist in the action-packed animated adventure Red Shoes and the Seven Dwarfs, premiering on Digital and On Demand September 18 and available to own on Blu-ray™ and DVD September 22 from Lionsgate.
About Red Shoes and the Seven Dwarfs
This outrageous fairy tale spoof starts as Snow White steals a pair of red shoes that transform her into a princess.
Meanwhile, a witch's curse turns seven brave princes into dwarfs, forcing them to seek out the princess, hoping for a kiss to break their spell.
Together, they must face Snow White's wicked stepmother – who will stop at nothing to get her precious shoes back – and, along the way, learn that true beauty lies within!
Watch the Trailer
Special Features
Go behind the scenes of this must-own animated adventure with enchanting Blu-ray and DVD bonus features, including two "making-of" featurettes and two music videos featuring the all-new original songs!

"The Making of Red Shoes and the Seven Dwarfs" Featurette
"From Storyboard to Animation: Creating Red Shoes and the Seven Dwarfs" Featurette
"Start of Something Right" Music Video
"Something So Beautiful" Music Video
Red Shoes and the Seven Dwarfs: My Thoughts
Looking for something new for family movie night? Look no further than this humorous retelling of Snow White.
I watched this with my girls, aged 6 and 8 and they both absolutely enjoyed the movie. In fact, they wanted to watch it again over the weekend.
In this retelling the princess is the one who must save the prince, but that isn't the only twist!
The film strongly emphasizes a body-positive theme that teaches the beauty of all shapes and sizes.
There is some flirting and a kiss, but it is completely family friendly.
Red Shoes and the Seven Dwarfs Apple Pie Recipe
This mini apple pie recipe is the fairest of them all!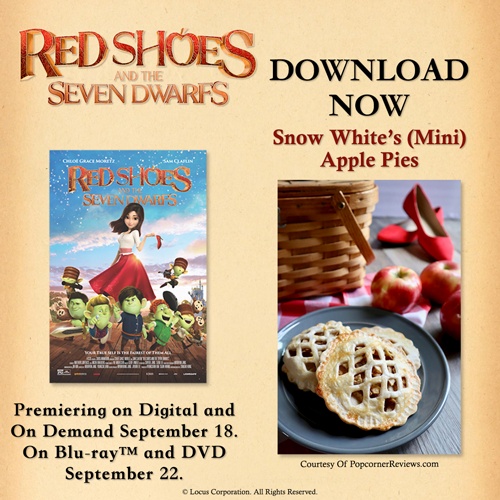 Buy Red Shoes and the Seven Dwarfs
The Red Shoes and the Seven Dwarfs Blu-ray and DVD will be available for the price of $21.99 and $19.98, (USD), respectively.
Disclosure: I received the above mentioned product in order to facilitate this review. All thoughts and opinions are honest and my own.
Elizabeth Lampman is a coffee-fuelled Mom of 2 girls and lives in Hamilton, Ontario. She enjoys travelling, developing easy recipes, crafting, taking on diy projects, travelling and saving money!